Resources for Communities
At ERI, we know that the world's most vulnerable communities are those living between its most valuable resources and its most powerful global elites. The global movement for earth rights depends on working together with these communities to make sure their voices are heard and their rights are respected by governments and corporations. ERI's trainers, campaigners and lawyers use community education tools to support people around the world who face earth rights abuses. These tools take concepts and lessons that are crucial for defending earth rights – such as Environmental Impact Assessments or public participation – and present them in a way that's accessible to everyone, not only lawyers or civil society activists.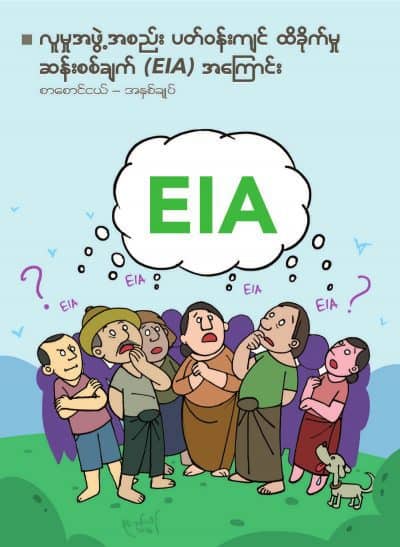 Environmental Impact Assessment Poster and Booklet
ERI works with communities across the Mekong region and Myanmar to build their knowledge and skills around environmental law. ERI trainers and lawyers use this poster and booklet as tools to help communicate the complex processes behind an Environmental Impact Assessment (EIA) and support local communities to assert their rights to be heard in development decisions that affected their environments.
"An important starting point in deciding whether they want the project is to understand the EIA process itself." – Participant in an ERI EIA training program in Thailand
EIAs offer a chance for communities to voice their opinions about the development projects that will affect their lives and environment, but the process is often unclear and obscured by complex laws and regulations. ERI uses this video in community-level trainings to help those affected by development projects expand their legal knowledge. The video focuses on stories from the Kaeng Sua Ten communities in Thailand and their thirty-year struggle to defend the country's last golden teak forest from flooding by hydropower projects. Using this case study, communities and advocates in Thailand share lessons and help to explain the EIA process. Based on these lessons, earth rights activists across Southeast Asia and elsewhere can better assert their rights under environmental law. This video is for other civil society groups or communities dealing working to increase public understanding of EIAs.
"To determine their own future, communities must understand the proposed project… communities can then design their own campaigns to achieve their goals."
– Participant in an ERI EIA training program in Thailand
Environmental Impact Assessments, or EIAs can be a crucial tool for communities who face harmful development projects. ERI uses this video in grassroots trainings to show how communities can use the public consultations during an EIA process to make their voices heard. The video focuses on the story of the Heinda tin mine in Myanmar. Since 2008, pollution from the Heinda mine has contaminated water supplies in nearby villages, with villagers reporting health problems and damage to their farmlands. The company operating the Heinda mine, Myanmar Pongpipat Company Ltd (MPC), was ordered to conduct an EIA. But as villagers in the affected communities saw that EIA laws were not being followed, they refused to participate in public consultations for the company, preventing the EIA from moving forward. Communities across the Mekong and elsewhere can look to the Heinda case to see one method of influencing the course of development projects in their area. This video is for other civil society groups or communities who are working to support public participation in EIA processes.
"We observed that the company used English language and technical environmental engineering terms that could not be understood by the community. When they did this, people in the community stood up and complained that they cannot accept it like this."
– Aye Mon Thu, Dawei Probono Lawyers Network
Three communities in Thailand, Mae Moh in the north, and Baan Krut and Bo Nok in the south, know what it is like to fight coal-fired power plants and coal mines in their communities. They have used legal, policy, and social strategies to assert their rights against the companies. Their stories, documented in this community education video, serve as a learning opportunity for others in the Mekong region and elsewhere who face harmful fossil fuel projects in their communities.
"They said that the project would bring development, jobs and a good economy. Villagers would have more money… but for farmers it was very difficult since there was no land for them to farm and no other jobs for them."
– Maliwan Nakwirot, leader of the Network of the Afflicted in Mae Moh, Thailand