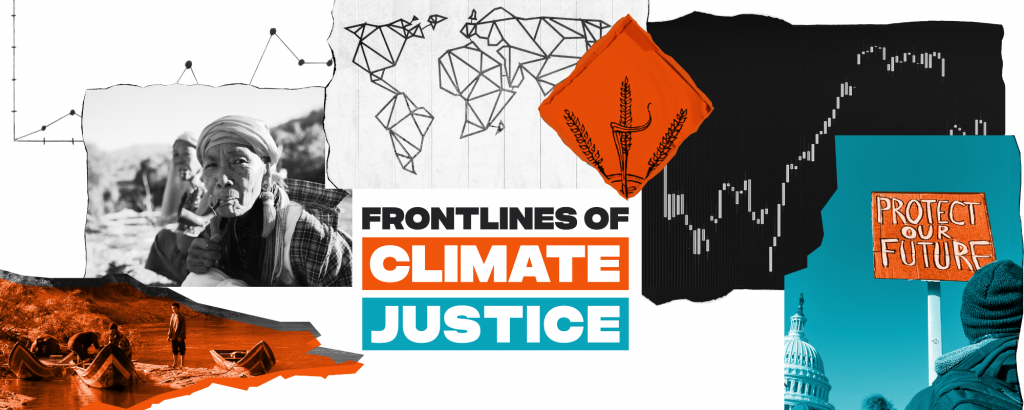 Working with Indigenous and frontline communities to support and amplify their work in resisting climate-destroying fossil fuel projects.
WHAT WE DO
The world is at a tipping point. To avert the worst effects of the climate crisis, countries must end their dependence on fossil fuels, take aggressive action to curb environmental destruction, and prepare for the unavoidable impacts of a climate crisis that is already here.
As governments have failed to take meaningful climate action, Indigenous and frontline communities have risen to address the crisis. Indigenous and frontline communities, human rights defenders, local government leaders, women, and youth have built a global climate movement resisting climate-damaging industries and denouncing the inaction of world leaders.
Communities on the frontlines of the climate crisis face the wrath of corporate power, inept governments, and an escalating climate crisis.
When governments and corporations work together to put profit over people, communities worldwide suffer. This takes many forms:
Harassing communities and activists to silence their voices.
Lobbying for subsidies and other hidden policies that disguise the true cost of fossil fuels.
Pushing the costs of fossil fuel projects onto local communities, often in the form of pollution or land-grabs.
Enacting legislation to restrict the right to freedom of assembly and prevent communities from protesting fossil fuel projects.
Excluding local communities from the decision-making process that affect their land and rights.
Misusing the criminal code to harass and prosecute communities resisting climate-damaging projects.

We envision a world where human rights are respected, and the environment is protected, where the worst impacts of the climate crisis are averted, and where future generations inherit a livable planet.
We act in solidarity with these communities, with consultation and consent.

Our goal is that policymakers recognize the central role that frontline communities must play in the global response to the climate crisis and to defend the rights of frontline communities to speak up without fear of reprisals. We work with frontline and Indigenous communities to defend their rights, make their voices heard, and expose the tactics that governments, corporations, and financial institutions use to repress and retaliate against them.
SEE OUR LATEST
TAKE ACTION WITH US