"For me, there is no question without a solution . . . it is a question of time."

– Emmanuel Umpula
In a country with many serious questions and few solutions, the optimism of Emmanuel Umpula, founder and executive director of AfreWatch, is essential. The Democratic Republic of the Congo (DRC) is one of the world's richest countries in terms of natural resources and mineral wealth but one of the world's poorest in per-capita purchasing power and percentage of the population living in extreme poverty. Political instability, endemic corruption, civil wars, ethnic conflict, foreign invasions, gender violence, and substandard infrastructure can help explain part of this tragic juxtaposition. The modern manifestation of brute colonialism and the unchecked exploitation of the Congo's resources drives the widening gap between rich and poor, the rivers with dead fish, the workers who disappear, the children who can't breathe, and the communities who can't survive. So when Emmanuel asked EarthRights if we would help him identify solutions, we listened.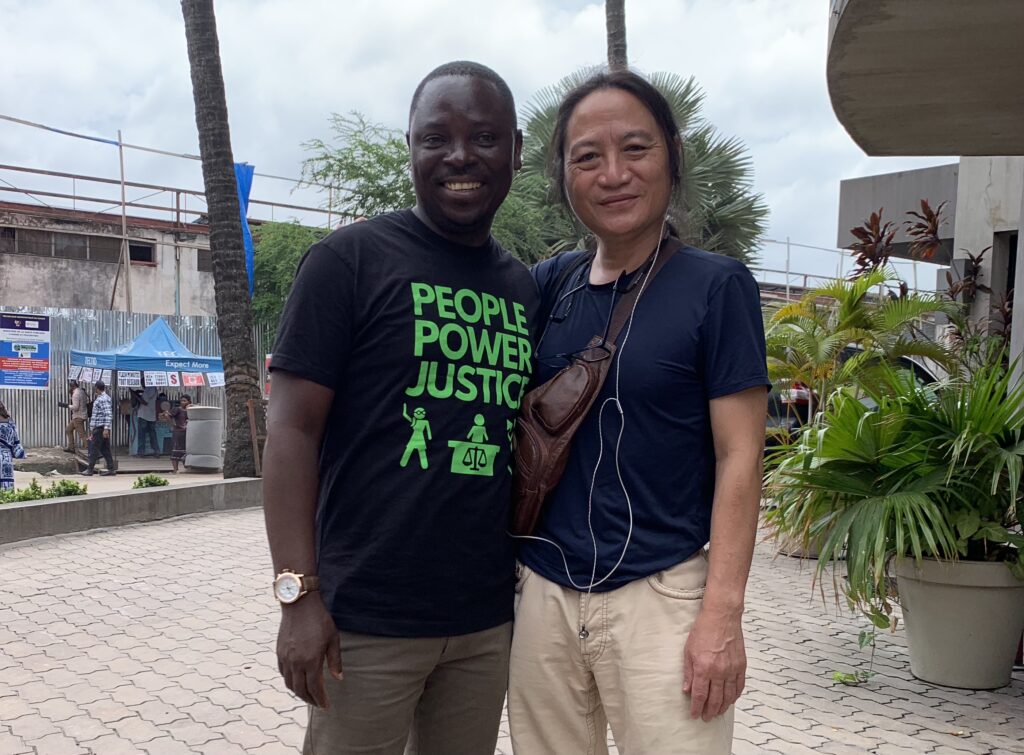 Founder and Director of AfreWatch Emmanuel Umpula and EarthRights Executive Director Ka Hsaw Wa.
Emmanuel has more than 20 years of experience working on mining and resource issues in the DRC as an advocate and a lawyer. Before founding AfreWatch in 2013, he served as the Executive Director of Action Against Impunity for Human Rights and Advocacy Coordinator for the Carter Center. At AfreWatch, he leads a team that writes reports, helps develop and grow community organizations, and brings legal actions on behalf of the people and communities most harmed by multinational mining operations. AfreWatch has helped revise Congolese mining regulations and is part of a small but tenacious group of Congolese civil society organizations working at the intersection of climate change, resource exploitation, and human and labor rights within the Congo. We were delighted when he accepted EarthRights' invitation to participate in our 2021 virtual Global Convening focused on Chinese Investment and global environmental defenders.
In December 2022, Emmanuel and 21 other earth rights defenders came to Chiang Mai, Thailand for the first-ever Global School. In addition to learning about Chinese Investment and sharing campaign, legal, and advocacy strategies with defenders from the Mekong, Amazon, and sub-Saharan Africa regions, participants in the Global School visited and learned from students in the EarthRights Mekong school program. Emmanuel was particularly impressed with the Mitharsuu Center and the training experience that EarthRights provides to young activists from the Mekong region, and he shared that he possessed a similar vision for a program training defenders in the Congo. As the 2021 recipient of the Human Rights and Business Award from the United Nations, AfreWatch received a monetary award that it used to purchase land and build the foundation for a school in Lubumbashi–but AfreWatch needed help realizing the next stage of its vision.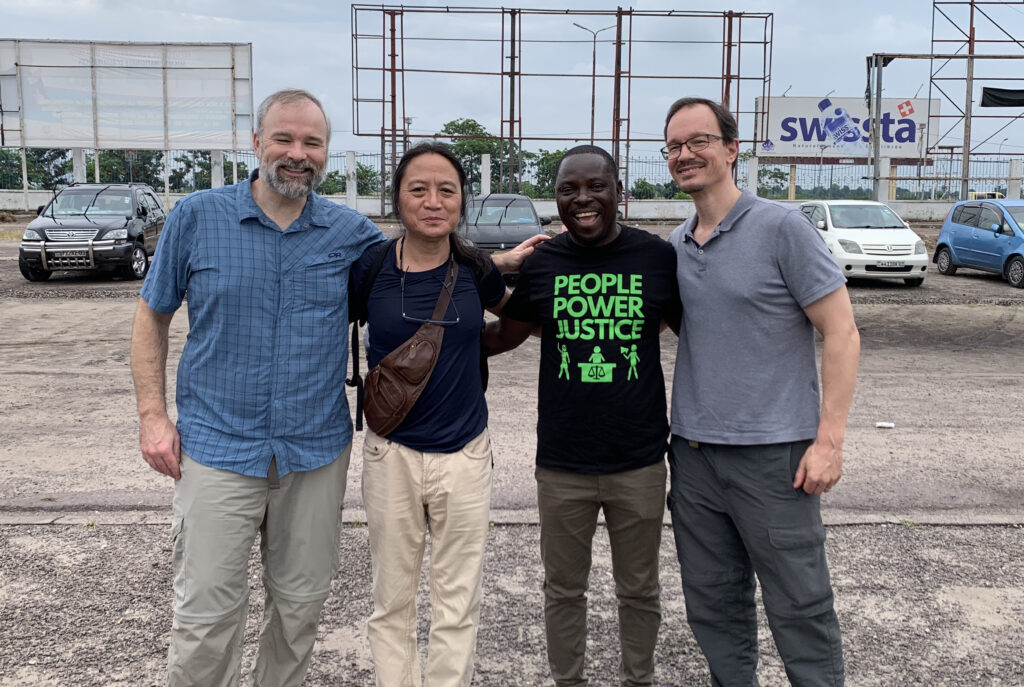 From left to right: EarthRights Director of Global Education and Training, Seán Arthurs; Ka Hsaw Wa; Emmanuel Umpula; and EarthRights Director of Strategy and Campaigns, Keith Slack.
So, on March 4, 2023, EarthRights' Executive Director Ka Hsaw Wa, Director of Strategy and Campaigns Keith Slack, and I boarded a plane for Kinshasa, the capital of the DRC. Our mission was to better understand the challenges and realities faced by defenders and civil society in the DRC, to build a relationship with the entire AfreWatch team, and to explore the possibility of working with AfreWatch to launch a formal training program for Congolese activists. Over the course of three days in Kinshasa, we listened and learned from international and domestic experts from CODED, Greenpeace, Oxfam, Trocaire, NRGI, SIDA, AJWS, and USAID. In every meeting, we heard stories of Congo's immense mineral wealth and the multinational corporations extracting this wealth-these so-called "critical minerals"– without regard for the environment, workers, or the communities suffering the toxic effects of this extraction. Despite this, we also heard stories of hope from the communities who want to fight back.
The second part of our trip, to the southeastern city of Lubumbashi and the mining epicenter of Kolwezi, allowed us to see the mines and the communities they've harmed. We met and listened to more than 30 community members from three regions as they told us about losing their livelihoods, their water, their land, their food sources, and their health as a direct result of nearby mines and the noxious gasses, smoke, acid, and water they emitted. The promised social projects, hospitals, and infrastructure were nowhere to be found.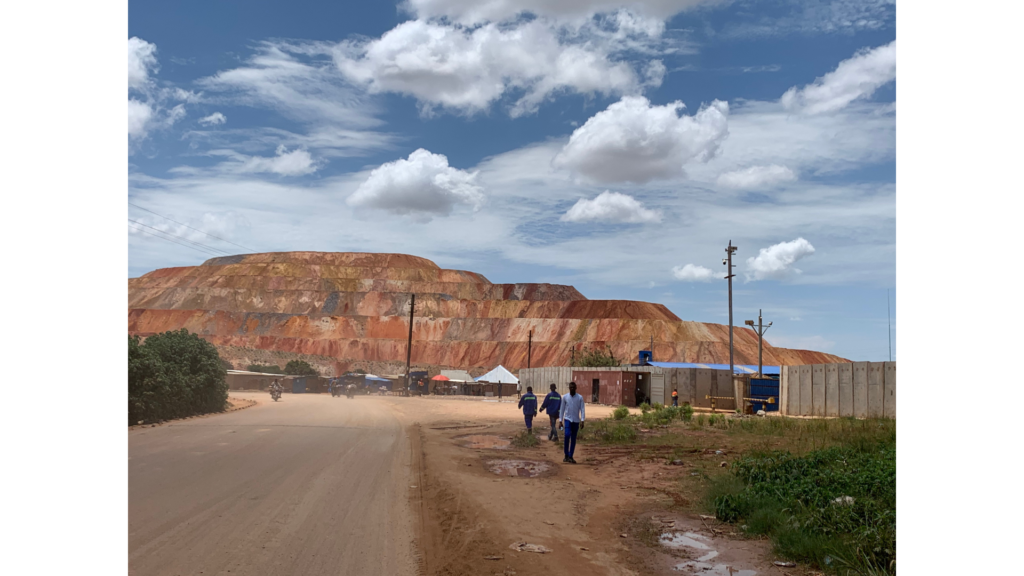 Mining project in Kolwezi.
Donald, who serves as deputy coordinator of the Association of Public Development in Musonai, shared how "We are surrounded by economic efforts, but instead of development, we are surrounded by poverty." Yet despite these challenges, each community remained resilient and expressed a desire to learn how they could better advocate and organize to improve their situations. Documentation techniques and protocols, community organizing and mobilizing strategies, and effective advocacy training were frequently mentioned as areas of pressing need.
Driving between these communities in Kolwezi, we observed depressing mountains of mine waste, huge tracts of land surrounded by fences and armed guards, and roads dominated by modern trucks loaded down with copper and cobalt ore. One scene of Congolese children playing in a stream brought a brief joyful respite –until we realized they were playing in the polluted water flowing down from the upstream mine. Similarly, our appreciation for some of the smooth, paved roads we were driving on was paired with the realization that these roads were only built to serve the constant stream of mining trucks traveling south to process and profit from the DRC's wealth.
Emmanuel and the Afrewatch team also arranged for us to meet with a team of lawyers and civil society organizations working to improve the legal structures, remedies, and human rights and environmental protections within the Congo's mining and resource sector. We learned about the new mineral code, the wealth of laws on the books that regulate the sector and protect communities, and the payments companies are legally obligated to make to support social services and community improvement projects. Unfortunately, we also learned how rarely these laws are enforced and how little communities know about their rights. Donat Kambola Lenge of the Initiative for Good Governance and Human Rights acknowledged that there are some community education efforts happening but emphasized that "the trainings that exist right now for civil society are not connected to la lutte ('the struggle')."
Just a few miles away from the poured concrete foundation of the school Emmanuel hopes to build in Lubumbashi is a Carmelite monastery. In addition to serving as a place of reflection and gathering, the monastery is a working animal farm where the monks raise pigs, rabbits, and chickens. The monastery also has 25 single rooms and two classrooms for rent. This August, EarthRights and AfreWatch plan to fill those rooms and classrooms. Twenty Congolese activists, representing 10 of the most threatened and at-risk communities in the Congo will gather for the first joint AfreWatch and EarthRights training program tailored to address the specific needs of defenders from this corner of the globe. This pilot training program will build on EarthRights' experience of more than 25 years in helping strengthen the capacity of communities and organizations to hold corporations and governments accountable for respecting human rights and the environment. It will be grounded in Afrewatch's deep understanding of DRC's political, legal, and social contexts and its long experience supporting local communities in the country to defend their rights. The outcomes from the training will inform how we collectively move forward in helping to find solutions to the many serious questions the DRC and its communities face- la lutte that will shape the future of the DRC.

Left: Foundation of future Afrewatch school in Lubumbashi; Right: Carmelite Monastery and site of August pilot.