As the global environmental justice movement intensifies with the climate crisis, communities and activists worldwide are rising to resist extractive activity. But in their quests to halt harmful development, earth rights defenders sometimes need help turning their visions into action. In 2022, we launched the EarthRights Global School to create a shared space for earth rights defenders from Sub-Saharan Africa, Amazon, and Mekong regions to learn, share knowledge, and build community.
Last month, EarthRights hosted 22 earth rights defenders for the first-ever Global School. Each of these defenders and activists represent communities and civil society organizations fighting to protect the environmental, human, and land rights of frontline communities. We designed the program in partnership with the Center for Transnational Environmental Accountability and Advocates for Community Alternatives. Participants in the convening will continue to learn from one another through participating in a new global network of earth rights defenders. The following activities took place from December 5 through December 16, 2022 in Thailand.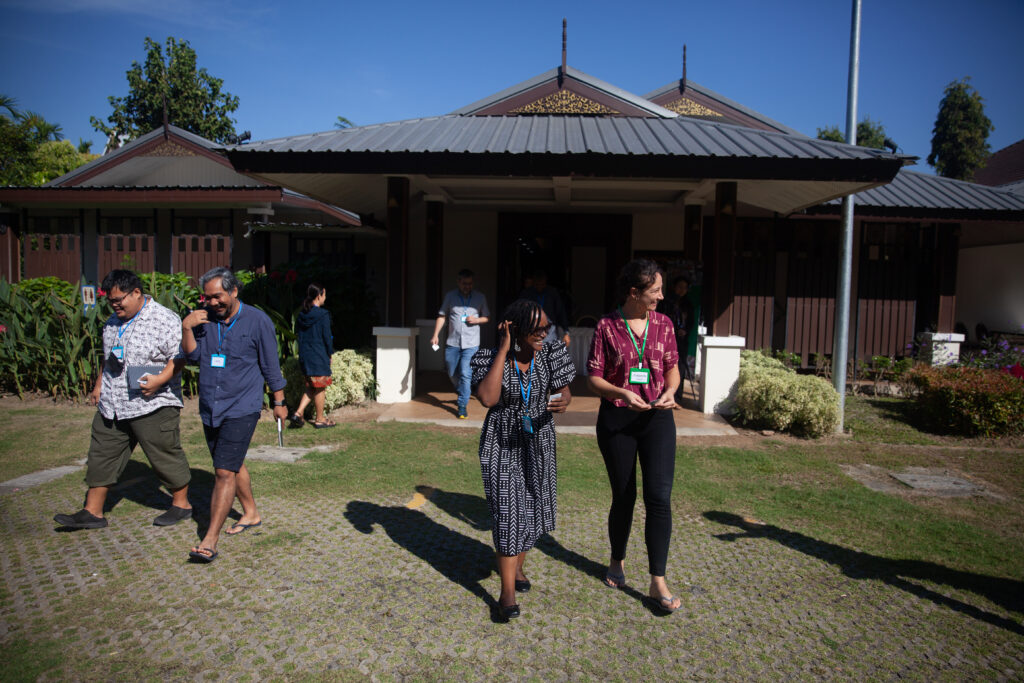 Global School participants are paired off for an introductory activity. After meeting and talking, partners presented each other to the full group. The Global School brought together students from Africa, Latin America, and Asia for a two-week immersive learning experience in Thailand focused on the effects of international Chinese Investment. Photo by Cayla Nimmo.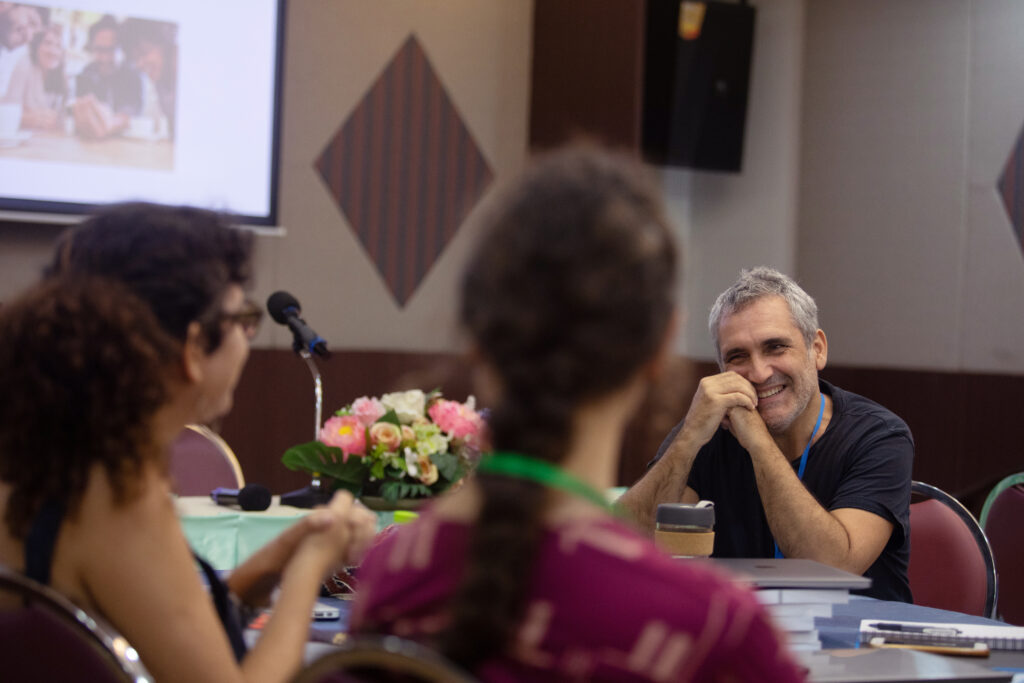 Daniel Rodriguez of FENAMAD listens to another participant share during an ice breaker on the first day of the Global School. Photo by Cayla Nimmo.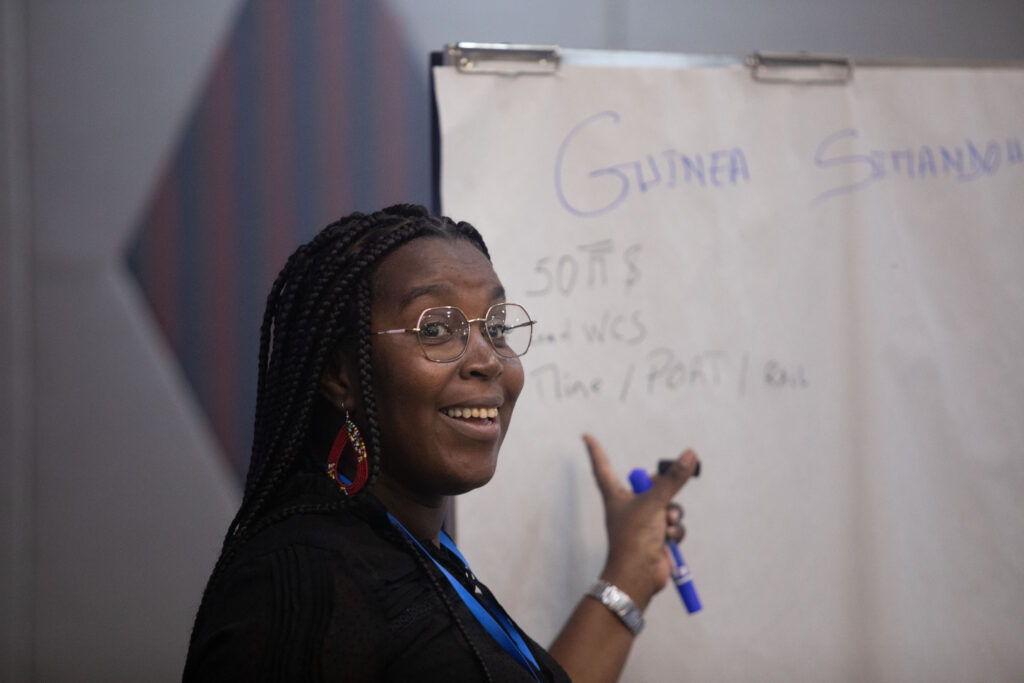 Sokhna Die Ka of Natural Justice takes notes for her group on a real-world case study at the Global School. Participants broke into small groups for team exercises examining five development projects threatening frontline communities. At the end of the first week, the groups presented their stakeholder maps and dossiers; at the end of the second week, the groups presented advocacy and campaign strategy options for each threatened community. Photo by Cayla Nimmo.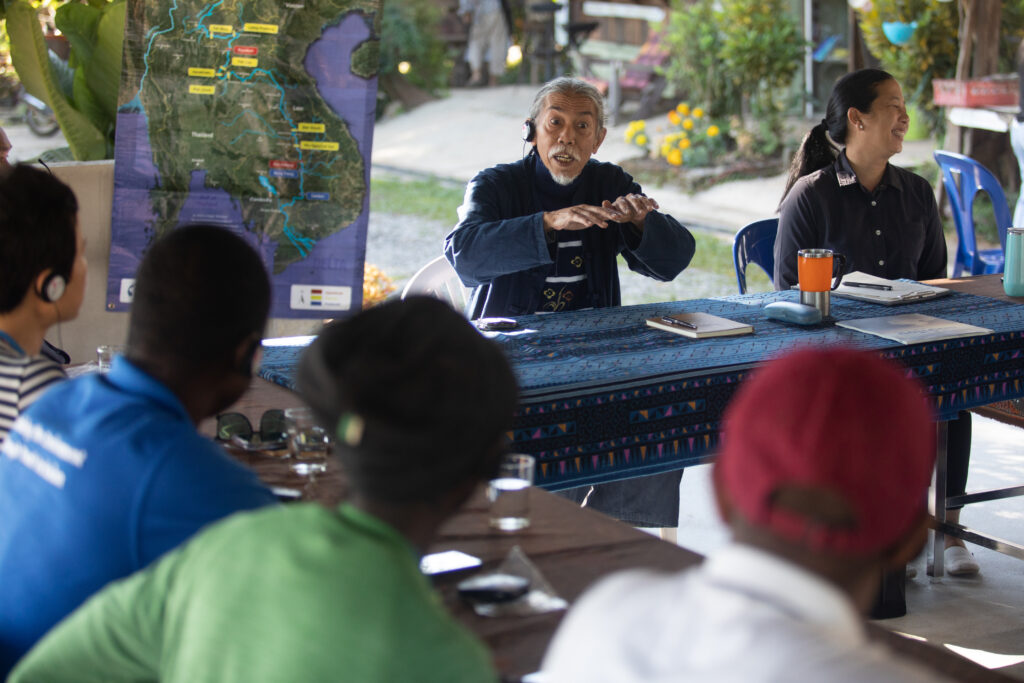 Niwat RoyKaew ("Kru Thi"), founder of the Mekong River School, answers questions from Global School participants during a field trip to the school. He fielded questions from participants and explained his approach to community mobilization. RoyKaew is a 2022 Goldman Environmental Prize recipient. The school trains people to fight to protect the Mekong River from harmful development. RoyKaew and his community are currently opposing a blasting project that could destroy nearby rapids and turn the Mekong into a "giant highway." Photo by Cayla Nimmo.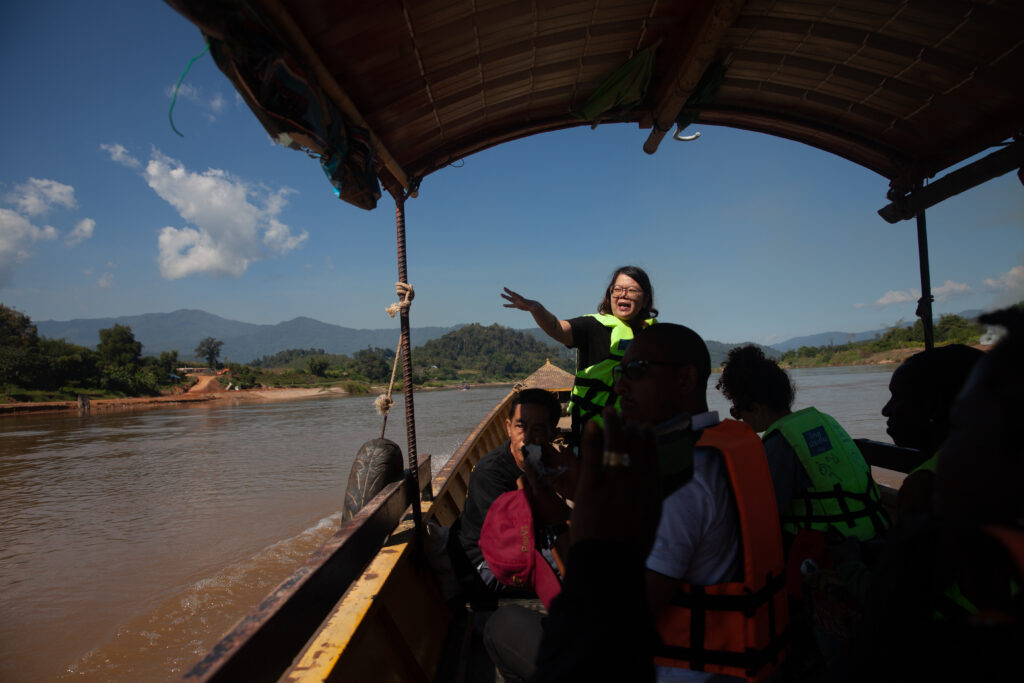 Wora, an EarthRights campaigner in the Mekong region, leads Global School participants along the Mekong River to a proposed blasting site which would damage the river and forever alter the Mekong. RoyKaew and the Mekong River School have been fighting this blasting project and other local large-scale developments. Photo by Cayla Nimmo.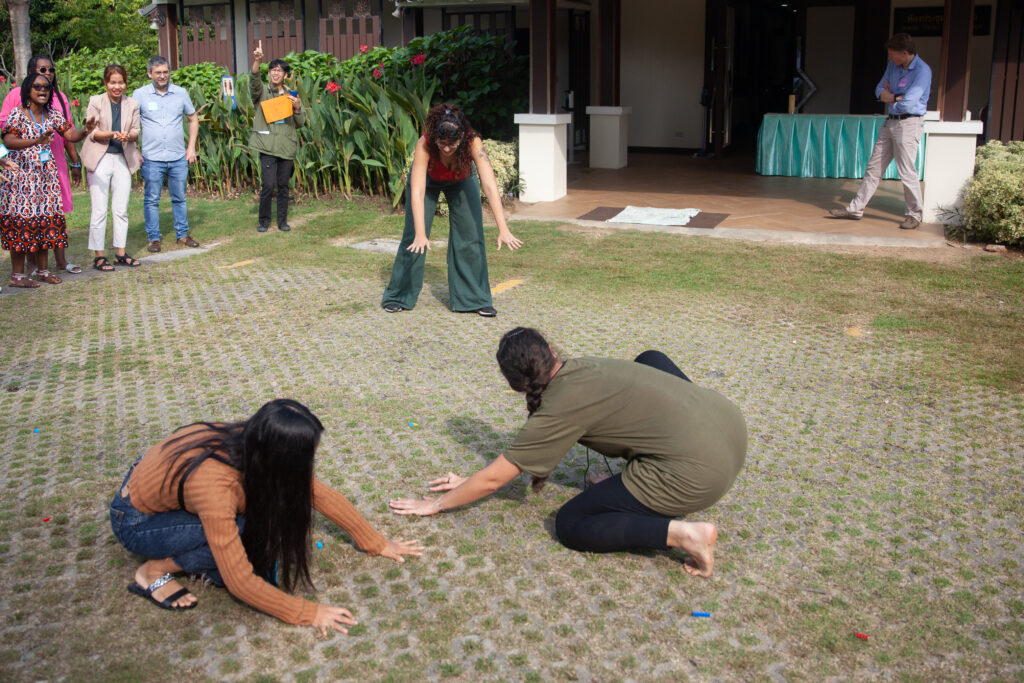 Graduates from the EarthRights School visit the Global School for a collaborative session and exchange. Photo by Cayla Nimmo.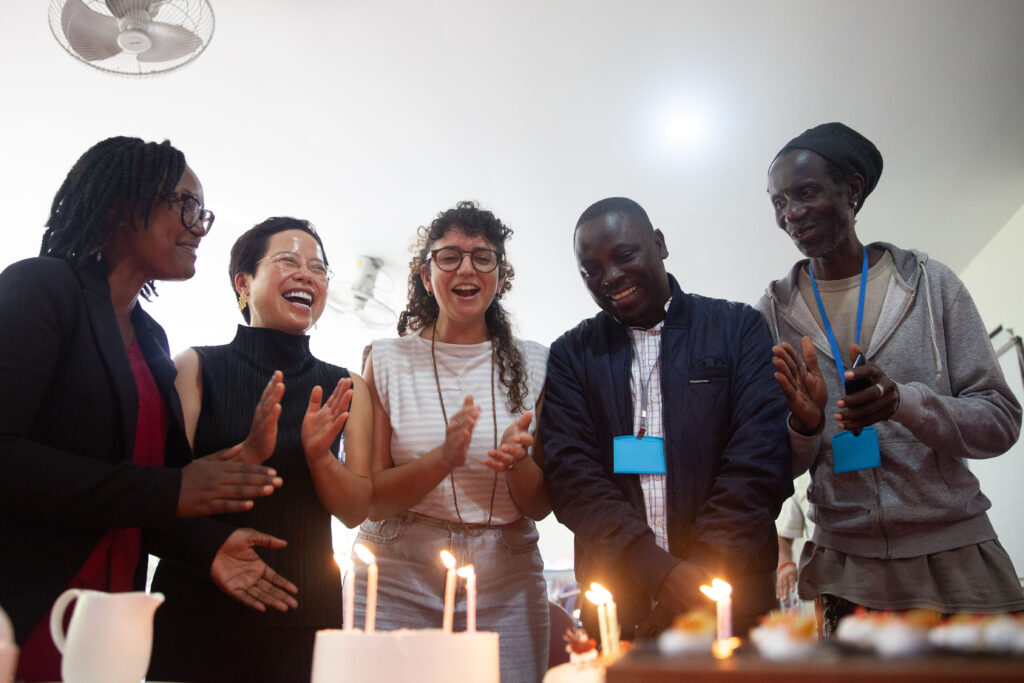 Global School participants celebrate five December birthdays–Lalla Toure's, Jingjing Zhang's, Ana Luisa Queiroz Freitas's, Emmanuel Umpula's, and Lamine Sadio's–with birthday cake. Photo by Cayla Nimmo.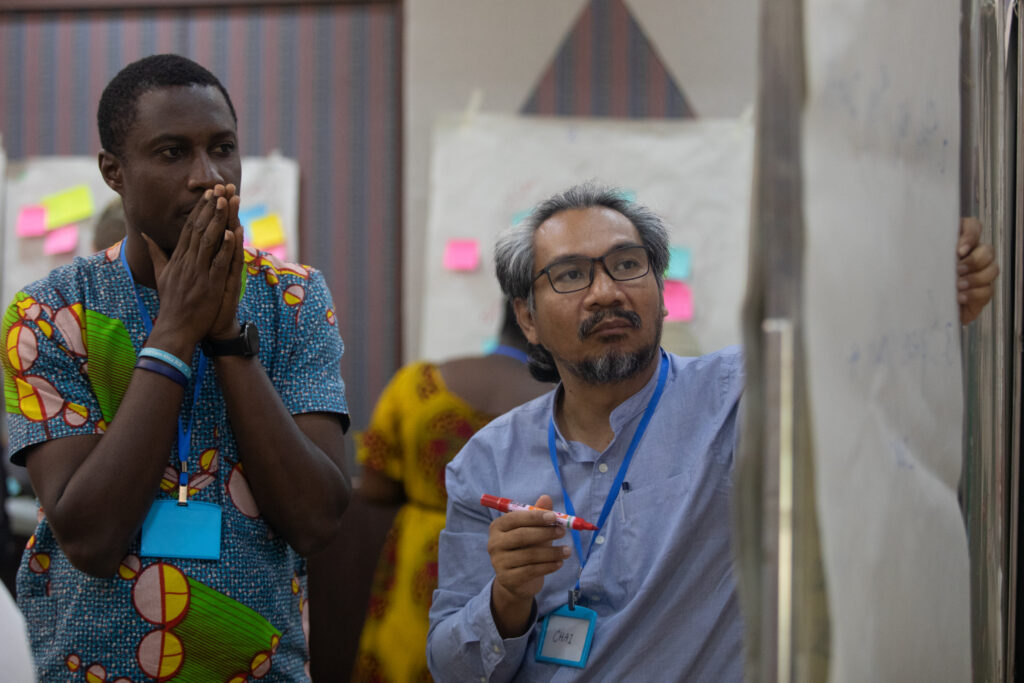 Chibeze Ezekiel of Strategic Youth Network for Development and Wichai Juntavaro of Spirit in Education Movement take part in an interactive session about building a network at the Global School. Photo by Cayla Nimmo.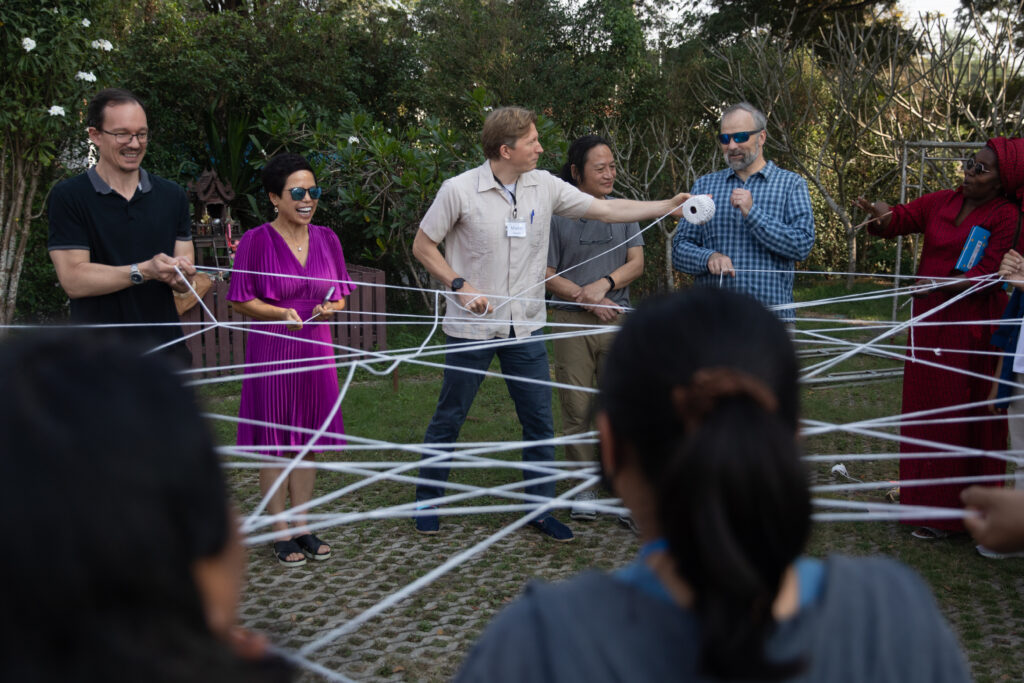 On the final day of the Global School, participants gather outside for a collective activity to summarize what they have learned from the two weeks and to create a visual representation of the network by passing a ball of twine to each other. Photo by Cayla Nimmo.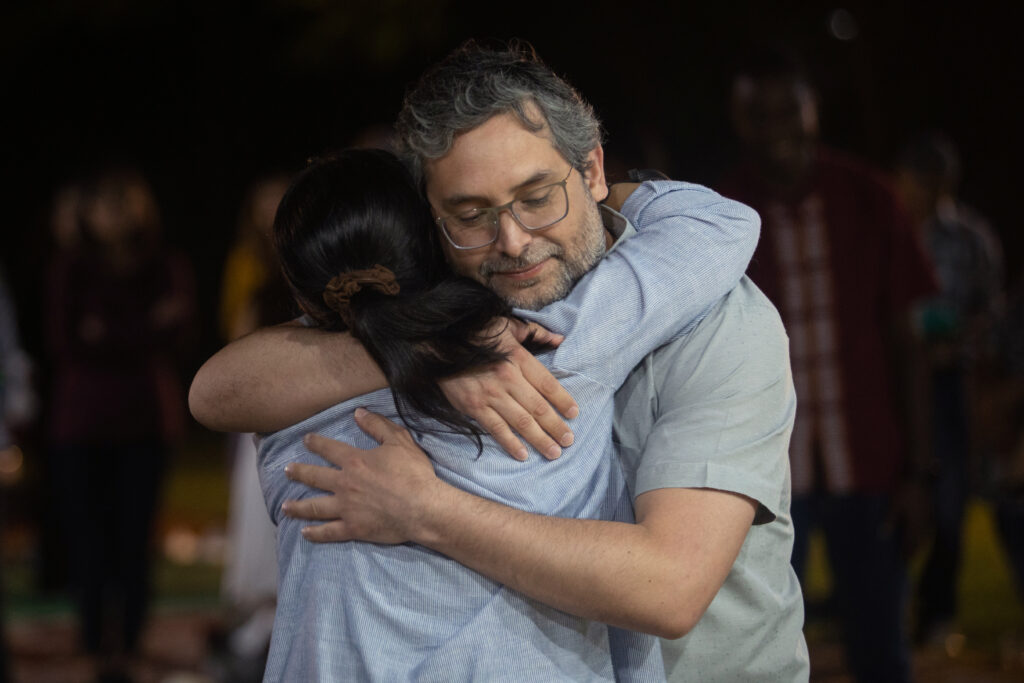 Cesar Flores Unzaga of Civic Power Collective hugs another Global School participant during the graduation ceremony at the culmination of the two-week immersive course. Photo by Cayla Nimmo.