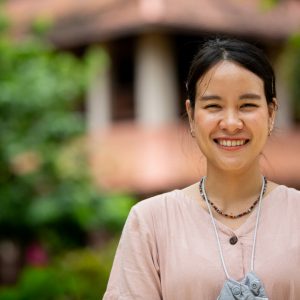 Watchawalawee (Dream) Kunboomreung
Mekong Bertha Fellow
Region: Southeast Asia
Watchalawalee Kunboomreung is a Thai lawyer with a passion for human rights, constitutional law and
sustainable development. She holds a bachelor's degree and a master's in law from Chiang Mai University. Watchalawalee has pursued this passion by engaging in numerous initiatives and activities.
In 2016 Watchalawalee served as an assistant researcher on a project titled "Development of an Eco-Industrial City in the Northern Industrial Estate and Surrounding Communities," organized by the Thailand Research Fund, the Dharmattana Foundation for Social and Environmental Development and Faculty of Law, Chiang Mai University. In 2017 Watchalawalee worked as a coordinator for a project o developing and implementing public health programs for ethnic minorities, supported by the Health Promotion Fund (NESDB). She also worked on a project analyzing the problems facing the homeless in Chiang Mai and exploring avenues for legal advocacy on their behalf. In 2018 she served as a research fellow for the International Commission of Jurists (ICJ). Most recently, Watchalawalee has been working as a researcher on a project titled "Dynamics of the Urban Poor and Congested Communities in a Changing Society," supported by TSRI. She also teaches Constitutional Law at Maejo University.
Watchalawalee believes strongly in the power of the law to help people by promoting human rights, environmental protection, and sustainable development. She looks forward to using her skills and knowledge while building new skills as the Mekong Bertha Fellow to promote environmental and human rights.