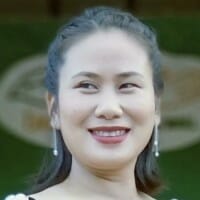 Lu Lu
Bertha Justice Fellow
Region: Southeast Asia
Lu Lu, who is ethnically Kachin, was born in the jade mining area of Hpakant, Kachin State, Myanmar. She is a graduate of the EarthRights School  ('18), and can speak Kachin, Myanmar, and English. She received her license of Higher
Grade Pleader in 2013 (in Myanmar legal licensing, a Higher Grade Pleader is entitled to practice in all Civil and Criminal Courts subordinate to the High Courts). She has represented communities in  human rights and environmental justice cases as an active participant in the Kachin pro bono Lawyer Group. She is passionate about legal advocacy and policy changes to protect earth rights and promote sustainable development of government-sponsored mega projects. Prior to ERI, Lu Lu worked as a legal consultant. She joined at the Myanmar Environmental Lawyer Network in 2015.
Lu Lu holds a Bachelors degree of Law (LL.B) from Myitkyina University, Kachin State and a degree of the International Law and
Business Law from Yangon University, in Myanmar.