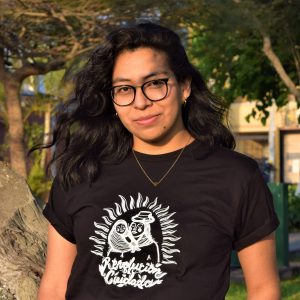 Karla Flores
Region: Latin America
Karla has a bachelors in Law from the Pontificia Universidad Católica del Perú. She's interested in working in human rights, indigenous communities and nations, and gender equality. She's passionate about interdisciplinary research and she believes in using the law to right the inequalities we live with.
She's been an intern for the Judicial Counsel, Training and Research Center of the PUCP, the Governability and Social Conflicts Prevention Center of the Ombudsman Office, and EarthRights International.
She has also done extensive research on the states of emergency of the South Mining Corridor, and she is currently working on her thesis around the right to protest in extractive conflicts, focusing on the Las Bambas case.
Karla lives in Lima, Peru, and on her free time she likes to draw and paint.