Una sentencia incongruente: el Tribunal Constitucional limita los convenios que celebran la PNP y empresas extractivas
El pasado 26 de setiembre, el Tribunal Constitucional resolvió el caso de la prestación de servicios policiales extraordinarios en el Perú, también conocido como el de los convenios de servicio policial extraordinario suscritos entre la Policía Nacional del Perú y las empresas extractivas. Este caso, interpuesto por el Colegio de Abogados de San Martín con el patrocinio del Instituto de Defensa Legal (IDL) y EarthRights International, es un proceso de inconstitucionalidad contra la sexta Disposición Transitoria del Decreto Legislativo N.° 1267 (Ley de la Policía Nacional).
El pronunciamiento del TC es de suma importancia para las y los defensores de derechos humanos en el Perú, en particular para los que realizan su trabajo en contextos de protesta socioambiental, para el movimiento nacional de derechos humanos y los sectores sociales afectados por actividades extractivas (como son la minería o el petróleo).
En este análisis legal del caso, escrito por EarthRights International y el IDL, explicamos a detalle las incongruencias de la sentencia del TC, y las serias implicancias que puede tener para las y los defensores de derechos humanos en el Perú, para el derecho a la protesta, y el uso de la fuerza pública para fines privados.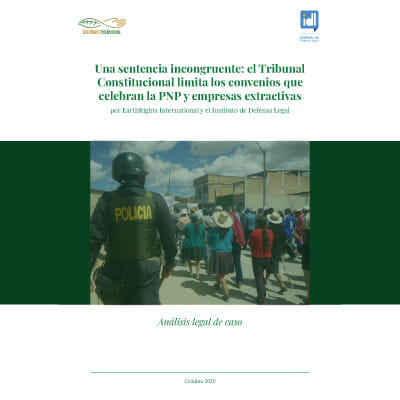 Scroll down to the bottom of the page to view the PDF within your browser.