Criminalización de defensores y defensoras de la Tierra, elementos para la defensa legal desde el análisis de casos
En una región con profundas desigualdades y problemas estructurales en el que no todas las personas gozan de manera plena y efectiva de sus derechos fundamentales a trabajar en defensa de esos derechos es una tarea esencial para asegurar el fortalecimiento y la consolidación de cualquier democracia.
Hay múltiples formas en que se ejerce la defensa de derechos humanos y sea cual sea la forma y el lugar desde donde se realiza, los Estados tienen el deber de garantizarla y respetarla. Sin embargo, no es así. Hace años ser defensor o defensora de derechos humanos es asumir un riesgo bastante alto. Especialmente en América Latina, donde reclamar y exigir el respeto y garantía de derechos se hace cada vez más difícil y hostil, exponiéndolos a múltiples situaciones de violencia y vulnerabilidad.
La violencia y los ataques contra los defensores y defensoras no solo ha incrementado, sino que ha diversificado, y una de esas formas de violencia, es la criminalización, es usar de manera indebida el derecho penal y del sistema jurídico para impedir su lucha, lo cual genera un impacto particularmente negativo en los procesos comunitarios y colectivos en la defensa territorial y del ambiente.
EarthRights International trabajada de manera articulada y cercana con las comunidades que sufren las consecuencias directas de esta violencia, y una de las maneras de hacerlo es proporcionando defensa legal técnica, y brindando acompañamiento y asesoría en diferentes niveles, y este informe es producto de ese trabajo. En este documento se intenta hacer un análisis del fenómeno de la criminalización en el Perú a partir de tres casos que hemos acompañado durante los últimos años, y sirve para reflexionar sobre los enormes desafíos que tenemos.
Este documento se terminó de elaborar en el marco de la pandemia del COVID-19, en la que se ha hecho aún más evidente la necesidad de seguir trabajando y sumando esfuerzos en la lucha por tener una sociedad más justa y equitativa, donde la defensa del territorio y del ambiente sea una prioridad, y la participación de los líderes y lideresas sea efectiva. Un mundo en el que se respete la diferencia y en el que las políticas sociales tengan un enfoque étnico cultural, que de cuenta de la diversidad y la biodiversidad.
Ninguna defensa legal es posible sin todo el esfuerzo, la energía, la dedicación y la convicción de querer un mundo libre y justo. Gracias a todos y todas por hacer parte de este proceso y sumar a la lucha que continua.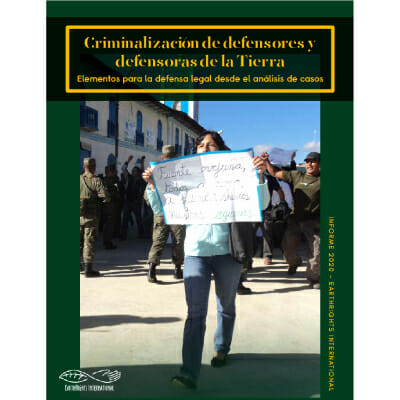 Scroll down to the bottom of the page to view the PDF within your browser.