Fossil fuel companies spent decades spreading misinformation about the consequences of the climate crisis, including how their products would exacerbate it.
Now, communities bear the brunt of climate costs. In Colorado, deadly fires rip through their homes and surrounding environment, costing counties a lot of money in clean-up fees.
Exxon and Suncor's profit-driven agenda has imposed severe economic costs on Boulder County, San Miguel County, and the City of Boulder. That's why Colorado communities are handing the bill back to Big Oil.
"Our communities and taxpayers should not shoulder the cost of climate change adaptation alone. These oil companies need to pay their fair share."— Suzanne Jones, Mayor, City of Boulder
Colorado communities are suing Exxon and Suncor to make them pay their fair share of the costs of climate change.
After the fossil fuel companies tried to delay this litigation for years by attempting to improperly remove the case from state court to federal court, the litigation is finally moving forward. We filed this case with communities in state court because local harms should be heard in local court. In April 2023, the U.S. Supreme Court delivered a critical victory to Colorado communities, rejecting Big Oil's bid to review the case, and thus allowing the litigation to proceed in state court as filed.
The purpose of this lawsuit is to ensure that these fossil fuel companies pay their fair share of the climate impacts for which they are responsible. For too long, companies like Suncor and Exxon have reaped record profits by pushing the costs of extraction and the climate crisis onto communities. As one of the top fossil-fuel-producing states, Colorado has already experienced rampant fossil fuel extraction connected to more air pollution. Colorado now faces additional climate harms, such as increased risk of wildfires and droughts and reduced snowpack.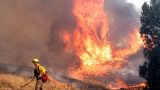 press release
04.24.23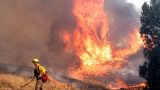 press release
03.16.23
CLIMATE IMPACTS IN COLORADO
Colorado is on the frontline of the climate crisis. The average temperature has risen more than two degrees since 1983. There were over 40 wildfires in Colorado in the last ten years, including the Marshall Fire in Boulder County, the most destructive fire in Colorado history.
test